Nominees and Guests of
2019 Pitt County Teacher of the Year
As a special thank you for using your talent and education for the benefit of our community, we wish to provide for you:
A free trade appraisal
$500 discount (for Guests) on any new vehicle purchase at any Pecheles dealership
$1,000 discount (for Nominees) on any new vehicle.
These gifts are redeemable through December 31, 2019. To schedule, please call Joe Pecheles Volkswagen at 888-210-1049
PECHELES AUTOMOTIVE SPONSORS NEW CAR FOR PITT COUNTY TEACHER OF THE YEAR GREENVILLE, N.C.
(March 27, 2019) – Ann Mehdi of South Central High School was recently named Pitt County Teacher of the Year at the 2019-20 Pitt County Schools Teacher and Employee of the Year Luncheon. Ann Mehdi received numerous accolades and gifts topped off by the presentation of keys to a brand-new Volkswagen Tiguan from Joe Pecheles Volkswagen.
"Once again, we feel extremely fortunate to have the opportunity to partner with Pitt County Schools, in honoring the next Teacher of the Year. We continue to be inspired by all of the educators in our community, who clearly illustrate how crucial they are to the future of so many children. We have a huge pool of talented teachers here in Pitt County, and I continue to be impressed year after year," says Brian Pecheles, President of Pecheles Automotive.
Ann Mehdi is the eighth consecutive Pitt County Teacher of the Year to be awarded the use of a new car from Pecheles. "Pitt County Schools is fortunate to have extraordinary community partners, such as our friends at Pecheles Automotive, who value the importance of education and the hard work that our teachers put into their jobs," Pitt County Schools Superintendent Dr. Ethan Lenker said. "We are one of the few if not the only county that I've been involved with where a car is provided for the Teacher of the Year to use free of charge."
One Teacher of the Year candidate is nominated from each school in the district, and each nominee must submit a portfolio to be reviewed by the selection committee. Six finalists were chosen to undergo a classroom observation and interview. The runner-up for this year's event was, Julie Berry of J.H. Rose High School.
As the winner, Ann Mehdi will go on to represent Pitt County at the state level for a chance to be named Teacher of the Year for North Carolina. Pecheles Automotive is comprised of four dealerships representing six brands: Joe Pecheles Volkswagen-Hyundai and Audi Greenville in Greenville, Pecheles Ford-Toyota in Washington, and Pecheles Honda in New Bern. Joe Pecheles Volkswagen is located at 3021 Evans Street.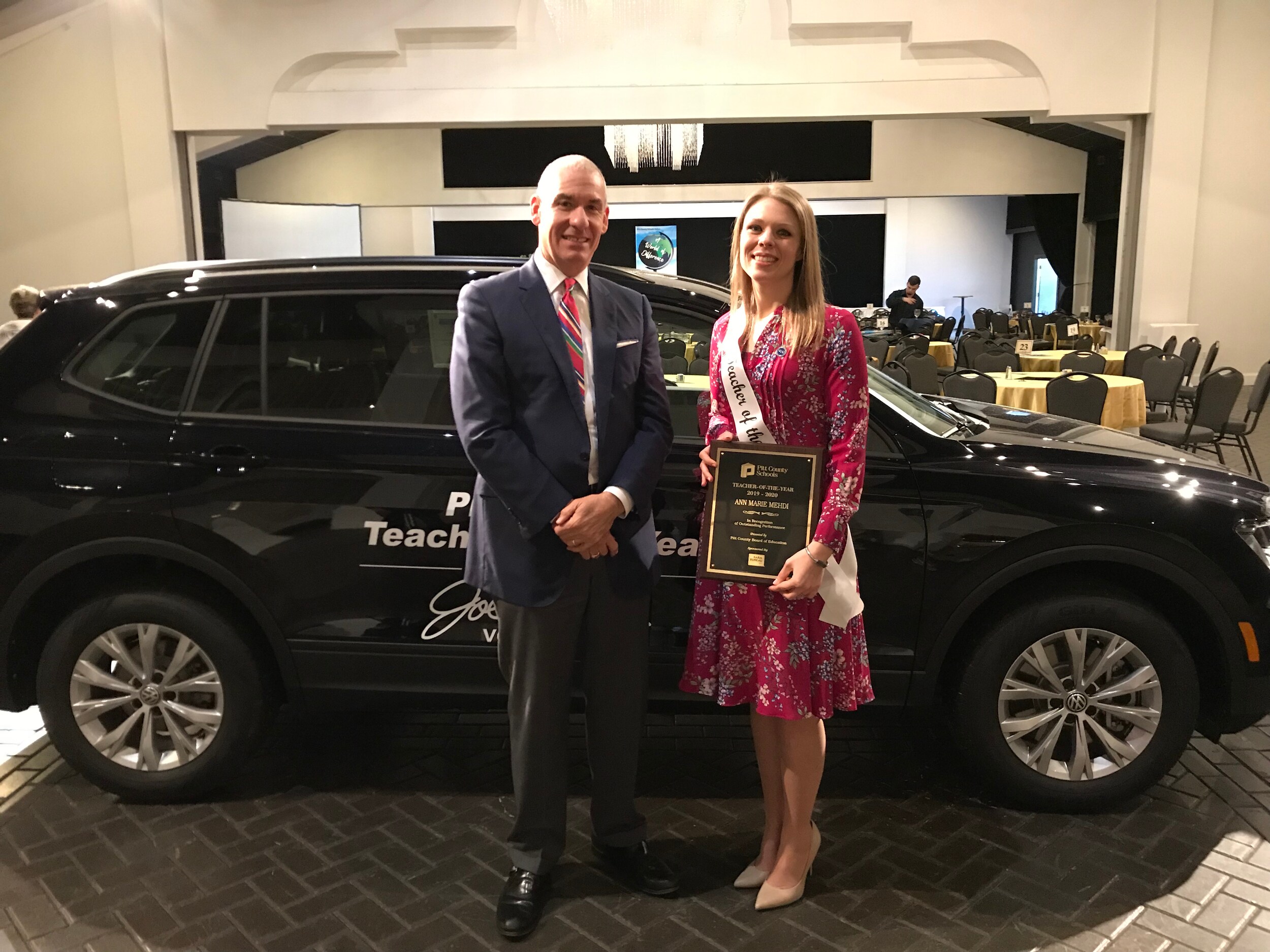 WITN visits Pitt County's Teacher of the Year
WINTERVILLE, Pitt County (WITN) - WITN stopped in at South Central High School Tuesday to follow up with Pitt County's Teacher of the Year.
Ann Marie Mehdi is currently in her fourth year as a science teacher at South Central in Winterville.
Mehdi, who is also an ECU graduate, says her goal is to help students realize that there is so much you can do with science and it should actually be fun.
Mehdi says educators run in her family, including her mom, and their advice and encouragement has helped her become the teacher and person she is today.
It was just last week where dozens of local teachers, administrators and staff were honored for their outstanding contributions to their schools.
Mehdi was honored to win the award for not only herself but her students as well, "It's almost like a validation that the hard work I do for my students. Everyday means something to other people, and it means something to my students, and I think that keeps me moving on the path I'm moving to do better every single day for my kids."
Along with the honor, Mehdi was awarded the keys to a brand new Volkswagen Tiguan SUV from the Pecheles Automotive Group, and for the next year will get to use the car for free.
This is the eighth year that Pecheles Automotive Group has given a car to Pitt County's Teacher of the Year.
Mehdi says it's very special how not only Pitt County Schools honor their teachers, but local businesses as well. She says it really helps show how important local schools and their students are.
No Video Source Currently Available