In today's fast-pasted job market, frequent job change has become the norm. According to the Bureau of Labor Statistics the average person with a Bachelor's degree or higher changes jobs 11.7 times between the ages of 18 and 46. This makes staying at a company for 10 years close to impossible. So what does it take to stay at a company for 40 years? It takes a very special person like Lois Brantley.
This year will mark Lois Brantley 40th year anniversary at Pecheles Automotive Group. While 40 years at any one company is uncommon, 40 years working within the fast paced automotive industry is extraordinary! Lois is originally from Middlesex, NC moved to Greenville in the 4th grade and has seen firsthand how the Pecheles Automotive Group has grown. She recalls when the dealership used to be one location, selling only Volkswagen brand. Today the company encompasses additional locations in Washington and New Bern and sells eight brands including VW, Audi, Hyundai, Mitsubishi, Ford, Toyota, Scion and Honda.
Lois first started at Pecheles in 1973 where she worked in the service department as a cashier while attending school at the Greenville School of Commerce. Over the years, Lois has held many positions and currently works in the accounting department. I sat down with Lois to ask her a couple questions about employment at Pecheles Automotive and how she has accomplished this extraordinary task.
Why do you think employee's today change jobs so often?
Lois: They are not satisfied with their jobs so they find another one. If someone doesn't like what he or she is doing they should do something else. I love my job and after 40 years I still enjoy it today.
Where do you see yourself in the next 5 to 10 years?
Lois: Retired, playing with my King Charles spaniel Buddy and spending more time with my family.
What has been your most rewarding/satisfying experience since you joined Pecheles Automotive?
Lois: All of the work friends that I have made over the years and my new car!
Lois was recently honored at a company ceremony and awarded a brand new 2013 Volkswagen Jetta from Pecheles for her hard work and dedication for so many years. This will be the second car the company has honored her with over the years.
So what does it take to stay at a company for 40 years? It takes a dedicated and hard working individual, one who truly enjoys their job and is loved and admired by their co-workers. Lois Brantley is all this and more.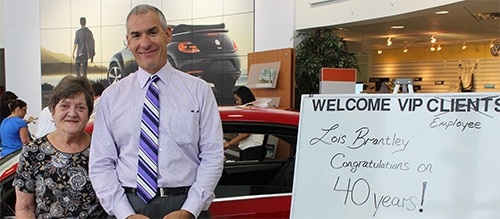 (Lois Brantley and Brian Pecheles)