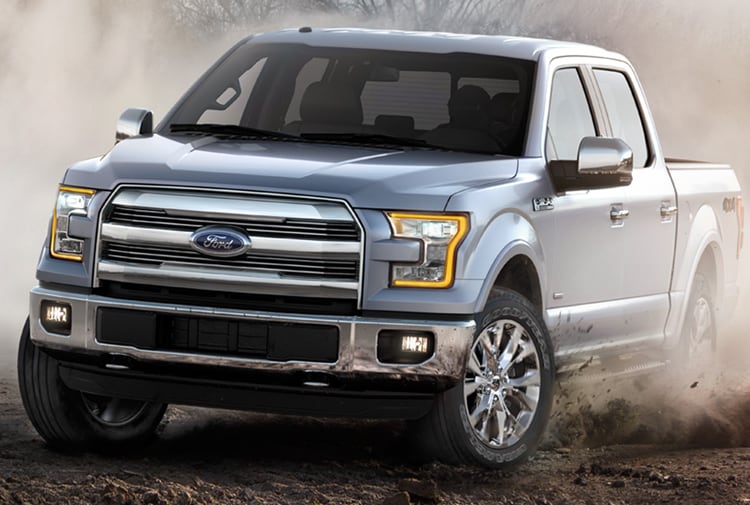 We're heading into what could be the most interesting era in the history of the pickup truck. Introducing the all-new 2015 Ford F-150. The 2015 redesign is easily the most substantial of any F-series remake in the model's 67-year history. Here are five key features:
1. Aluminum Body: The biggest news surrounding the 2015 F-150 centers around its aluminum body. Ford's extensive durability testing has verified its increased strength and corrosion resistance, while the aluminum body has cut weight by up to 700 pounds. This means less energy is needed to haul the truck, allowing more energy to be to allocated to max payload (3,180 pounds) and towing (12,200 pounds). Both figures are now best-in-class.
2. EcoBoost Engines: Three years ago Ford introduced a turbocharged, 3.5-liter V6 engine as an alternative to the traditional V8 found in most trucks. For 2015, the company is doubling down on its EcoBoost technology, adding a new 2.7-liter V6 with 325 horsepower and 375 pound-feet of torque.
3. Electronic Display: The 2015 interior is all-new, with more space, improved climate and touchscreen controls, and an updated seating position with superior outward visibility. But the most impressive feature is the optional eight-inch digital MyView gauge cluster, which Ford describes as a "productivity screen." It allows the driver to configure the gauges to display a wealth of information related to fuel economy, towing, off-roading, tire pressure and a dozen other vehicle specs, all grouped and prioritized in whatever arrangement the driver wants.
4. Exterior Cameras: Ford has introduced birds-eye-view, 360-degree camera technology, making parking and low-speed maneuvers in tight quarters much easier. And while the reverse camera option isn't particularly unique, the camera's ability to guide drivers toward a trailer hitch with a dynamic display line (thus removing the need for a spotter when hooking up a trailer) certainly is.
5. Driver Assist: The new F-150 has caught up by offering high-tech items like blind-spot detection, lane-keeping assist, curve control, forward collision warning, radar cruise control, hill descent control and Ford's patented Active Park Assist system. The F-150 can now identify a street parking space large enough to fit the truck before managing all steering input during the parallel parking process.