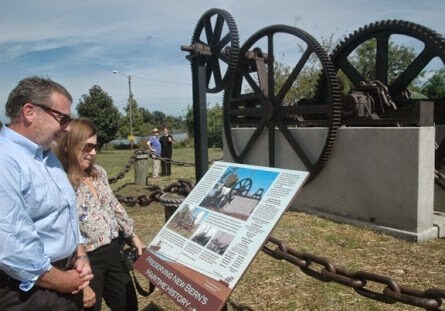 The final project of the New Bern 300th celebration was officially dedicated and turned over to the city by the Swiss Bear Downtown Development Corp.
The massive winch, with one gear wheel weighing seven or eight tons, was purchased by Barbour Boat Works for aiding large steel hull vessels in and out of the water at its planned Neuse River Facility, on property now owned by Maola Milk. The project did not come to pass, and the giant machine lay dormant amid weeds and other vegetation for decades until it was discovered in 2007 by 300th volunteers -- Tom McGraw, the late Dick Lore, Harry Goodman and Wade Tilley.
"It is an absolutely magnificent piece of maritime machinery and a reminder of the outstanding historic role our city had as a port and major boat-building center," said Susan Moffat-Thomas Director of Swiss Bear. "Like all of our projects, it has taken the public and private sector to make them happen. That is what has made this community so very, very special." This installation joins a restored Blue Angels F-11 at the park (funded in part by Pecheles Honda), along with some other 300th projects, including the restoration of the New Bern City Hall clock, an expanded River Walk downtown, a historic cemetery restoration; and a 29-foot Spider Lily sculpture at the New Bern Riverfront Convention Center.