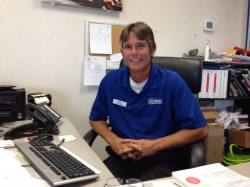 We would like you to meet David Smith, the Service Manager at Pecheles Toyota. We stopped by recently to ask him a few questions:
David, why is regular maintenance important?
It is often frustrating to encounter any form of car trouble, particularly if you are in a hurry or are far from dealership. These types of incidents can be avoided if you are able to regularly have your car checked. Regular car maintenance and repair can help prevent the possibility of you being stuck in these situations.
What basic maintenance should I have done?
- Have your engine checked regularly. Remember that the engine is the heart of your car; with a busted engine, your car is useless. Having your engine checked regularly will ensure that it is working properly and up to speed.
- Additionally, checking the brakes should also be part of your basic car maintenance.
- Also, in ENC, auto A/C is as important as air conditioning in your home. A functioning auto A/C provides daily comfort from the heat outside. If your auto A/C emits undesirable cooling, then it is time to bring your car in. A/C repair can range from a simple cleaning of a dirty condenser to a mechanical procedure.
Can you tell us about the Pecheles Toyota no cost scheduled maintenance program?
It's great! For the life of your purchased new Pecheles Toyota, we will take care of all scheduled maintenance at no cost to our customers. So air filters, cabin filters, rotating your tires and oil changes will be taken care of. Come on in, and I'll be glad to tell you more.
Thanks, David! How do we contact you with any questions?
My email is drsmith@pechelesautomotive.com, and my phone number is 252-975-1500. Just ask for me or reach me directly at extension 405.