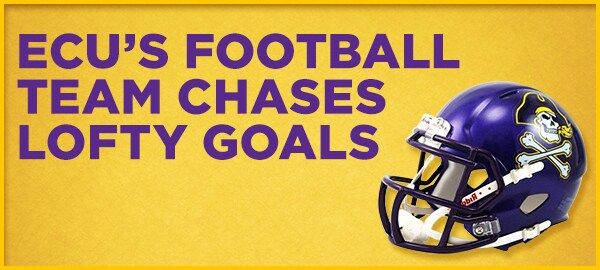 Get ready for another exciting season of ECU football! This year, our favorite team will be facing quite a few challenges as they fight their way to the top of their division, but we know they're up to the challenge. ECU's team will be led this year by returning senior Quarterback Shane Carden, who delivered a stellar junior campaign last year. Carden passed for 4,139 yards with 33 touchdowns and 10 interceptions. Additionally, he completed over 70 percent of his passes.
Last season, East Carolina was a member of Conference USA. This year, they find themselves in the AAC for their first season. The Pirates aren't unfamiliar with their new conference-mates, though. They faced Tulane and Tulsa last season and have been a regular opponent of UCF, Cincinnati, Temple and Connecticut. ECU is 57-34 against current members of the AAC.
ECU's key matchup will be on October 4 against SMU. The Pirates will be coming off of a three-game stretch where they face the Gamecocks, Virginia Tech and North Carolina in September. They will also be opening the AAC portion of their schedule with the Mustangs, who are coming off of a 5-7 season and no postseason bowl game for the first time in five seasons. The winner of this one gets a leg up in who might challenge the trio of Central Florida, Cincinnati and Houston in the AAC.
| | | | |
| --- | --- | --- | --- |
| DATE | OPPONENT | LOCATION | TIME / RESULT |
| 08/30/14 | vs. North Carolina Central (FW/PC) | Greenville, N.C. | W, 52-7 |
| 09/06/14 | at South Carolina | Columbia, S.C. | L, 33-23 |
| 09/13/14 | at Virginia Tech | Blacksburg, Va. | W, 28-21 |
| 09/20/14 | vs. North Carolina (HOF) | Greenville, N.C. | W, 70-41 |
| 10/04/14 | vs. SMU (HC) * | Greenville, N.C. | TBA |
| 10/11/14 | at USF * | Tampa, Fla. | TBA |
| 10/23/14 | vs. Connecticut * | Greenville, N.C. | 7:00 p.m. ET |
| 11/01/14 | at Temple * | Philadelphia, Pa. | TBA |
| 11/13/14 | at Cincinnati * | Cincinnati, Ohio | 7:00 p.m. ET |
| 11/22/14 | vs. Tulane (MIL) * | Greenville, N.C. | TBA |
| 11/28/14 | at Tulsa * | Tulsa, Okla. | TBA |
| 12/04/14 | vs. UCF (EA/SD) * | Greenville, N.C. | 7:30 p.m. ET |